Ahhh, January. A time for short, unromantic hustles to the car but also some of Providence's best culinary deals. Providence Restaurant Weeks begins Sunday, January 11 and concludes on Saturday, January 24.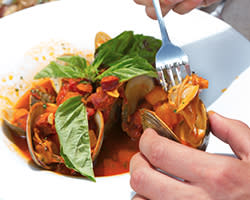 If you want to revisit a favorite dish or try something new, Restaurant Weeks is definitely for you! With both lunch and dinner options available from some of the area's top restaurants, what's not to love? All menus are three-courses, with lunch prices at $14.95 and dinner prices either $29.95 or $34.95. These prices do not include beverages, tax and gratuity but still make for a pretty sweet deal.

Just about 80 restaurants are participating in this culinary celebration, including Mediterraneo, Blaze East Side, Siena, Mill's Tavern and Ten Prime Steak and Sushi.

For participating restaurant's information, addresses and menus, check out ProvidenceRestaurantWeeks.com. 

You might get a new favorite, or just reinforce that your old favorite is here to stay. I know I'll be trying as many new places as possible. And with some restaurants offering a two-for-one special, you and a guest can try something new at a reasonable price.

If you love what you're having and want to share it with America's #1 city, be sure to tweet us a pic at @ProvidenceRI or use the hashtag #PRW. We want to see what everyone is enjoying around our chilly little city!