1. Attend PrideFest on South Water Street.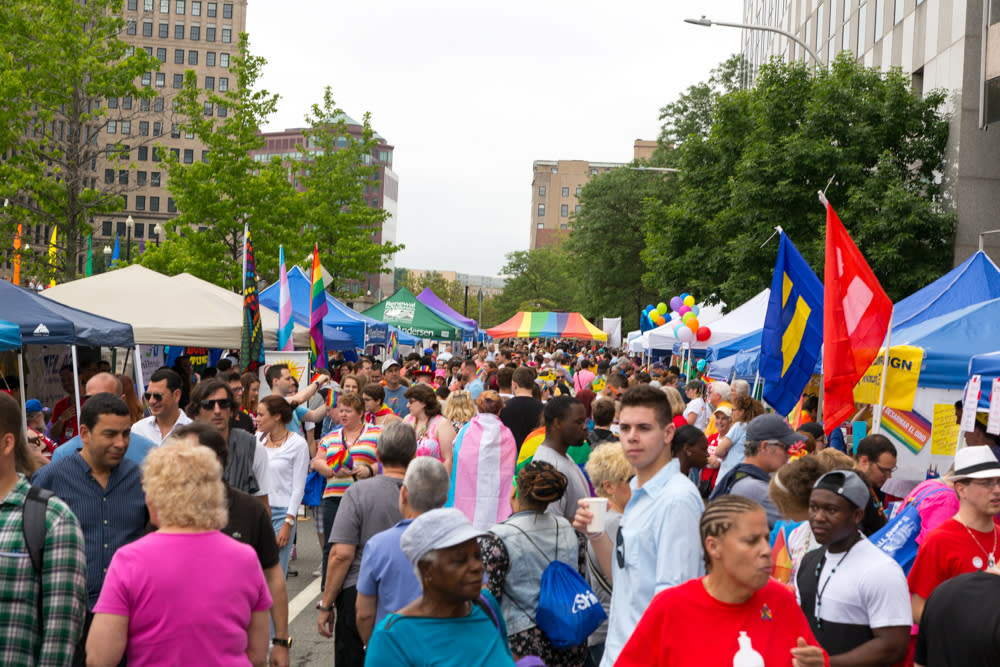 Saturday, June 15
Rhode Island PrideFest Festival: Live Your Truth
Noon–7 p.m. | South Water Street | Providence, RI
This year's PrideFest festival is bigger and better than ever. There are more entertainers (Alaska, Adore Delano, Jasmine Masters and Monique Heart, to name a few), more participants and more activities than we've ever had in the history of this event!
Come out and #LiveYourTruth (Rhode Island style!) with more than 200 vendors in the marketplace, social resource organizations, food trucks, local, regional and national entertainment all day long, the Hasbro Kid's Zone, arts organizations, and the Beer Wine & Spirits Garden. Enter the festival either at Memorial Boulevard and South Water Street (North Entrance) or on Wickenden Street (South Entrance), and be sure to post lots of pictures using #LiveYourTruth.
2. Enjoy the Illuminated Night Time Parade after dark.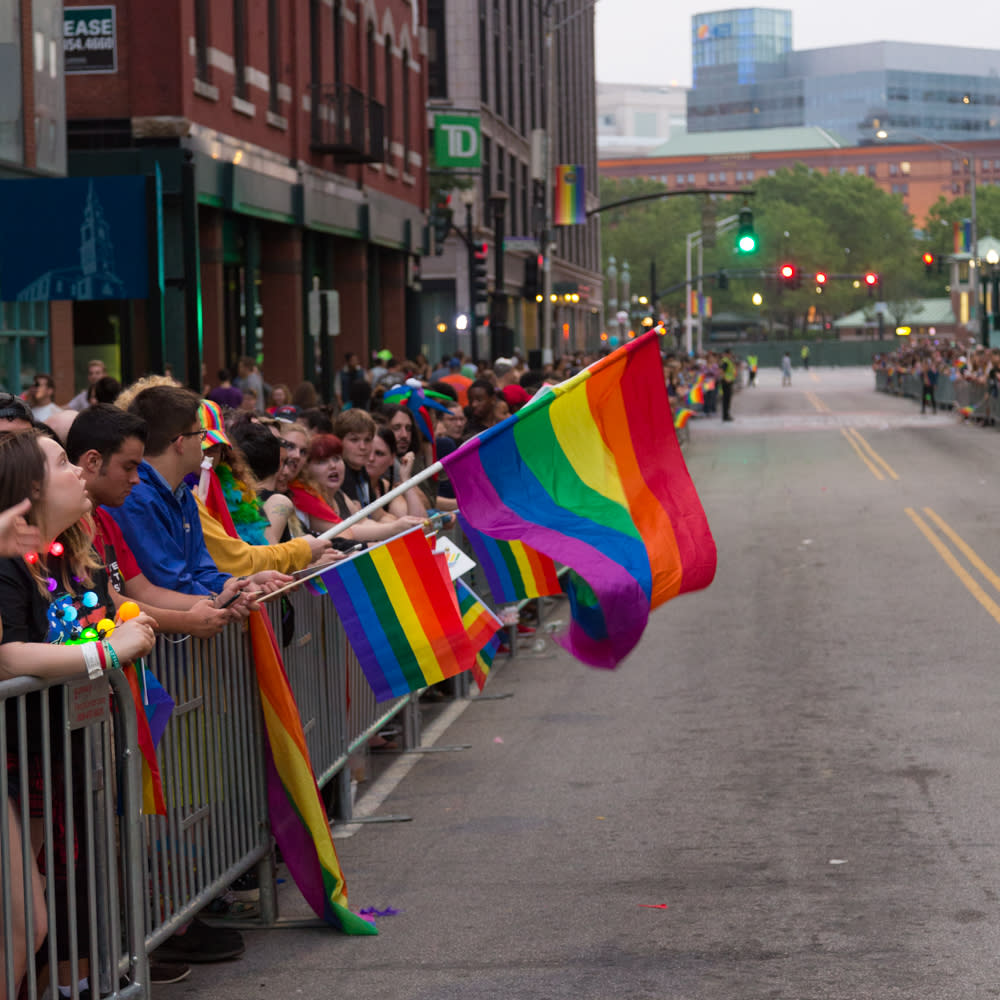 Saturday, June 15
Illuminated Night Time Parade
8:30 p.m. | Downtown Providence, RI
One of the annual highlights of Rhode Island Pride's PrideFest celebration is the LGBTQIA+ Pride Illuminated Night Parade, New England's only night parade. With a dazzling display of brightly lit up floats, performing artists, marching groups, businesses and tens of thousands of spectators, this incredible Pride Parade regularly makes national "top 10" lists and can't be missed. For the best place to watch the parade, we recommend the Main Reviewing Area, which is on Weybosset Street near the Providence Performing Arts Center.
Please note that there is a new ADA/accessibility viewing area at the corner of Weybosset and Empire streets. The energy in the city is electric, and we send an open invitation to everyone to participate in the weekend events that transform Providence into a vibrant and visibly LGBTQIA+-supportive city.
3. Bring the whole family and enjoy the Hasbro Kids Zone.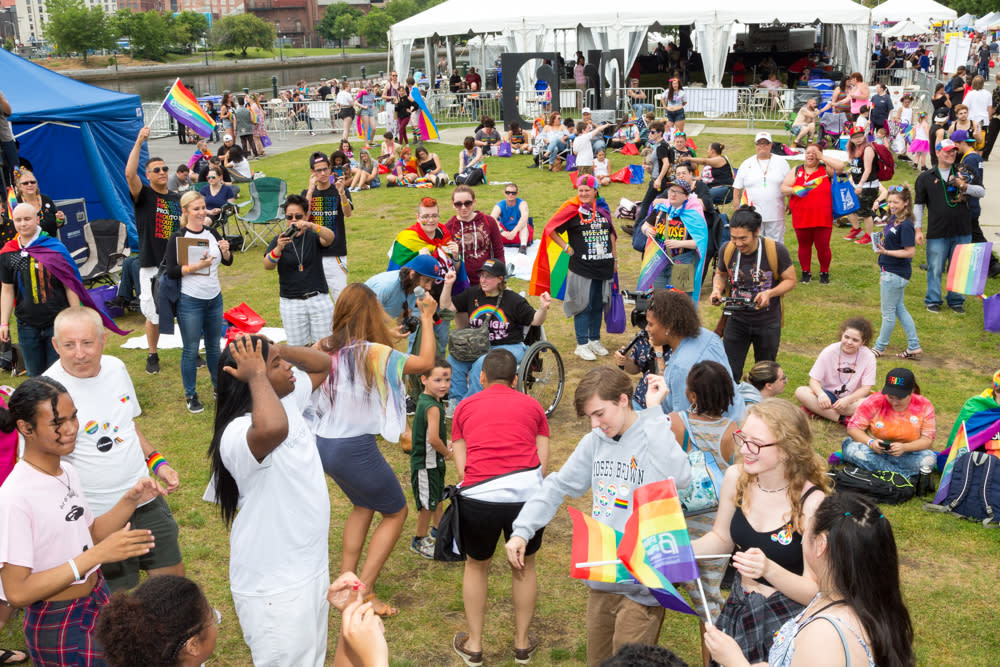 The Hasbro Kids Zone, located on Dollar Street, is back again this year with family-friendly activities starting at noon. There will be Hasbro games for the kids and live entertainment. The Kids Zone is accessible from the South Side of the festival site, entering from Wickenden Street. 
4. Enjoy an amazing lineup of live entertainment on the PrideFest Main Stage.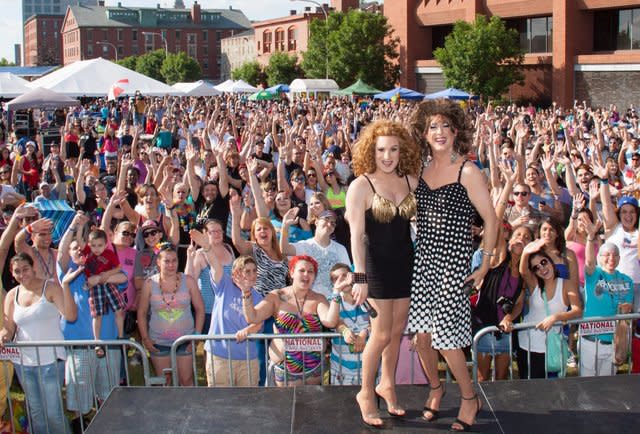 MamaRu herself would be impressed with the STUNNING lineup at PrideFest on June 15. 
The main stage will be hosted by local celebrity Lulu Locks, comedian John Kelley, and local drag performers Annie B. Frank, Kira Stone and Complete Destruction. The stage will feature New England-based gay dance party guru DJ Ephraim Adamz. The main stage will also feature headlining acts Alaska 5000 and Adore Delano from "RuPaul's Drag Race All Stars" Season 2, Monique Heart and Jasmine Masters from "RuPaul's Drag Race All Stars" Season 4, alongside popular drag king Spikey Van Dykey. From New York City, Brian Faltudo, best known from his role in "School of Rock," will grace the stage performing songs off of his new album.
Local high-energy dance rock acts Jodi Jolt and The Volt and the Mary Day Band will also appear on the main stage, along with countless other acts representing various genres and local performers. For a full lineup visit PrideRI.org/Entertainment. 
5. Block Parties, Block Parties, Block Parties! 

Dark Lady/Alley Cat — Don't Stop Me Now Block Party
The Dark Lady and Alley Cat kick off the weekend on Friday with the Beach Ball Block Party, featuring a special guest performance by Expose and prizes for best beach-theme costume. On Saturday, your hosts Kitty Litter, Jacqueline Dimera, Jennie Talia and Viza Decline bring you the Don't Stop Me Now Block Party, featuring Drag Queens, Drag Kings, dancers and more. 
EGO — The Main Event
EGO Providence is thrilled to be your headquarters for all your PRIDE events from Thursday to Sunday night. Kicking off Rhode Island Pride on Thursday evening, is RuPaul's Drag Race standout Brooke Lynn Hytes. Friday night features the return of TWERK Block Party with DJ Alex Mendez, as well as hip-hop artist Saweetie singing hits "ICY GIRL" and "Emotional." Saturday night will be the Main Event — EGO's massive block party with international DJs Alex Acosta and Nina Flowers. Sunday night will feature EGO's Pride finale, "Lube Wrestling," with all proceeds donated to Rhode Island Pride. For more information, visit EGOpvd.com.    
Providence Eagle — Pride Under the Stars VII
Don't miss the Providence Eagle Pride Block Party Pride weekend. On Friday, get your groove on with Electra, Nikita LeFemme, Diva Corvette and a special performance by renowned DJ and performer Big Dipper. On Saturday, dance under the stars with DJs Cisco, Sandy Snow and Jake for one of the hottest nights in the city. The party continues on Sunday with a T-Dance at 3 p.m.
The Stable — Block Party and The Big Gay Tea Dance
On Friday, June 14 and Saturday, June 15, The Stable will host its Pride Kick-Off Block Party with music by Esthera and DJ Jake. The Big Gay Tea Dance returns on Sunday with music by Andrea Stamas from noon–8 p.m.   
More Info ...

Providence's Pride celebration includes a spectacular Illuminated Nighttime Parade and draws visitors from across the country. Start making your Pride plans now. continue reading ›