Rhode Island Parks & Paths
Home to more than two dozen state parks and beaches, Rhode Island is equal parts idyllic and practical. Events like the Amica Ironman 70.3 Rhode Island have utilized the state's pristine beaches, pastoral bike paths and iconic landmarks to create a memorable, statewide event.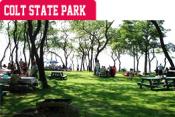 Colt State Park in Bristol is often referred to as the "gem" in Rhode Island's state park system. Home to 464 acres of manicured lawns, four miles of bicycle trails and 10 large playing fields, the waterfront park has played host to sports of all types, including several regional cross country championships.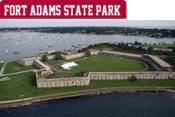 Situated at the mouth of the Newport Harbor, Fort Adams State Park offers an exceptional panoramic view of both Newport Harbor and the East Passage of Narragansett Bay. The park offers a wide range of activities including salt water swimming, fishing, boating, soccer, rugby, and picnicking.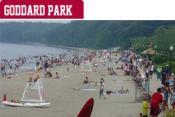 Goddard Park in Warwick is popular among both visitors and athletes alike. Hosting numerous road races, equestrian competitions, golfing and even ice skating, the park's 11 game fields are beautifully laid out across the sprawling 490 acres.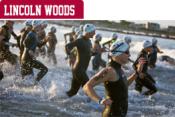 Northern Rhode Islanders flock to Lincoln Woods State Park in Lincoln for its freshwater beach, fishing, athletic fields and stables. The 627-acre park includes the Eastern Mountain Sports Kayak School, as well as kayak rentals.
Located in Charlestown, 227-acre Ninigret Park features a state-of-the-art playground, ball fields, ten-speed bike course, tennis and basketball courts, picnic areas and a freshwater swimming pond with a public beach. For the adventurous athlete, there is also a nine-hole Frisbee disc golf course.
The National Trust for Historic Preservation called Providence's Roger Williams Park one of the finest urban parks in the United States. Featuring more than 400 acres of picturesque grounds, the park is perfect for road races, biking and other outdoor events. The park is home to the Providence Cyclocross Festival and is considered a world-class cyclocross venue.