You can travel the globe and never find anything quite like WaterFire. A series of nearly 100 bonfires that seems to magically perch on the three rivers of downtown Providence, WaterFire is actually an art installation, which is just perfect for The Creative Capital. Created by local artist and Brown grad Barnaby Evans, WaterFire has attracted hundreds of thousands of people to Providence every year.
WaterFire is a multisensory spectacle, replete with the comforting aroma of burning wood and the lilting tones of carefully curated music, which amplifies the experience. Street performers, musicians and thousands of attendees add to the enchantment. Best of all, the entire incredible experience is free.
Full lightings wind through the downtown area, while partial lightings are confined to the Waterplace Basin. Fires begin at dusk. There are also two special fires — one calling attention to the fight against breast cancer and its survivors, and one honoring our nation's veterans.
Here are the dates for the 2018 WaterFire Season:
Full Lightings:
Saturday, May 26
Sunset: 8:09 p.m.
Sponsored by Bank of America and The Providence Journal
Saturday, June 30
Sunset: 8:45 p.m.
Sponsored by Cox Business and Amica Insurance
Saturday, July 14
Sunset: 8:20 p.m.
Sponsored by Fidelity Investments and NACUFS 2018 National Conference
Saturday, July 28
C is for Cure: A WaterFire Lighting for RI Defeats Hep C
Sunset: 8:08 p.m.
Sponsored by GILEAD
Saturday, September 8
Sunset 7:27 p.m.
Sponsored by National Grid
Saturday, September 22
Salute to Rhode Island Educators and The Big Bang Science Fair
Sunset: 6:43 p.m.
Made possible by the generous support of Textron Charitable Trust and other donors
Saturday, September 29
Flames of Hope a Celebration of Life™
Sunset: 6:31 p.m.
Sponsored by Gloria Gemma Breast Cancer Resource Foundation
Saturday, November 10
WaterFire Salute to Veterans
Sunset: 4:30 p.m.
Basin Lightings:
Sunday, June 10
Sunset: 8:20 p.m.
Sponsored by RI Day of Portugal
Saturday, October 6
Sunset: 6:31 p.m.
Sponsored by National Precast Concrete Association
Add a little more heat to your WaterFire evening by enjoying one of Providence's great restaurants and exciting nightlife.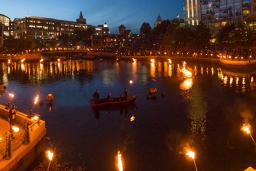 You're in luck if you looked at this year's WaterFire calendar and didn't see a date... Learn More ›