The long summer days may be slipping away, but there's still time to grab your sunglasses and some friends and raise a glass to beer garden season! There's no shortage of options to sit outside and sip some suds throughout the Providence area this fall.
Trinity Beer Garden
Located at Biltmore Park and just blocks away from Trinity Brewhouse, Trinity Beer Garden offers some of the freshest outdoor beers you can find in the city. If you're not a beer drinker, they've also got cocktails and wine in addition to a rotating food menu from a selection of food vendors and food trucks. Weekly programming features live trivia, music and comedy. Open May 25 through the fall, Thursday and Friday, 5–10 p.m.; Saturday, 12–10 p.m.; and Sunday, 12–6 p.m.
The Guild PVD Beer Garden
The Guild PVD Beer Garden returns this summer by the Providence Pedestrian Bridge. You'll find a variety of beers brewed at The Guild's Pawtucket brewery, available to enjoy with unmatched views of the Providence skyline. There will always be at least one food truck during the week and multiple trucks on weekends for all your snacking needs. Open May 3–Oct. 29, Wednesday and Thursday, 4–8 p.m.; Friday, 2–8 p.m.; Saturday, 12–8 p.m.; and Sunday, 12–6 p.m.
Enjoy Right From the Source
Most of the city's many breweries offer their own patio areas to enjoy beers brewed just a few feet away from your seat. Narragansett Brewery, Union Station Brewery, Trinity Brewhouse, Long Live Beerworks, Moniker Brewery and Lost Valley Pizza + Brewery all feature creative outdoor space with a variety of food options as well. Additionally, Providence's only distillery, The Industrious Spirit Company, offers a lovely covered outdoor area where you can sip on creative craft cocktails and mocktails.
Beer Garden Fun is Brewing in Cranston, Too!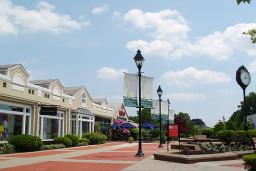 Hang on to summer a little longer with Beer Garden City at Garden City Center in Cranston. Each... Learn More ›