'Tis the season ... for desserts! What better way to celebrate the holiday season than with a delicious dessert recipe from a local chef? Executive Pastry Chef Matthew Petersen from Newport Restaurant Group is here to share three of his favorite holiday recipes so you can make them at home. Today we'll start off with the Apple Crumb Pie, a classic dessert for the season. Watch the video below and see the full recipe as well. 
Apple Crumb Pie
Ingredients:
Dough:
1 1/3 cups all-purpose flour
1/2 teaspoon kosher salt
2 teaspoons powdered sugar
4 ounces unsalted butter, cubed, cold
4 tablespoons ice water
1 lemon, juiced
Topping:
1/3 cup all-purpose flour
1 cup rolled oats
1/3 cup brown sugar
1/2 teaspoon kosher salt
2 ounces unsalted butter, cubed
Apple Filling:
4 large apples, McIntosh, Honeycrisp. Granny Smith or Gala
2 teaspoons lemon juice
3/4 cup sugar
2 tablespoons all-purpose flour
1 teaspoon cornstarch
2 teaspoons ground cinnamon
1 teaspoon ground nutmeg
1 teaspoon kosher salt
Steps:
Dough:
1. Mix together the flour, salt and sugar and dump onto the table.
2. Add in the butter and begin to flatten it into dime-sized pieces.
3. Create a small well and add the juice of 1 lemon and 3 tablespoons of ice water.
4. Begin to mix into a shaggy consistency.
5. Add another 1-2 tablespoons of ice water if necessary.
6. The texture of the finished dough should be rough and broken looking.
7. Shape into a small round and wrap tightly in plastic wrap.
8. Refrigerate overnight or for at least 3 hours.
9. Roll to 1/4" thick and into a large enough round to fit into a 9" pie pan.
10. Shape the dough into the pan using a gentle hand.
11. Create a decorative border.
12. Refrigerate the pie shell for 15-20 minutes.
13. Prepare the topping and apples.
Topping:
1. Mix together the flour, oats, brown sugar and salt.
2. Add in the butter and begin to mix in a stand mixer or with your hands.
3. Continue to rub the ingredients together until a wet sandy texture is achieved.
4. Distribute the topping over the apple laden crust.
5. Do this step before preparing the apples though - you don't want the apples to sit for too long with the sugar on them before they go into the oven.
Apple Filling & Finish:
1. Peel, core and slice the apples into 1/4" slices.
2. Toss in the lemon juice.
3. In a separate bowl, mix together the flour, cornstarch, sugar, cinnamon, nutmeg and salt.
4. Toss the apples in the dry mixture.
5. Pile the apples into your prepared pie shell.
6. Cover the pie in oat crumb topping from above.
7. Bake at 350 F for 30-45 minutes. Watch the top and crust for even browning and adjust the oven temperature and baking time accordingly.
8. Allow to rest for 2-3 hours before serving.
About the Chef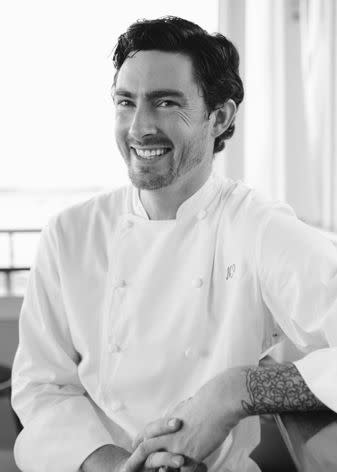 Matthew Petersen
Executive Pastry Chef, Papa Razzi Metro
As Executive Pastry Chef of Papa Razzi Metro, Chef Matthew Petersen elevates every guest's experience with delicious, artfully crafted desserts and bread. "I view my job as an important one, because my team's creations are the first and last items you see on the table," says Chef Petersen.
Growing up in the suburbs of Philadelphia, Chef Petersen's memories of his mother relentlessly baking cakes, cookies and pies was a key component in his decision to pursue the culinary arts. Fueled by his passion for confections, Chef Petersen enrolled at Johnson & Wales University in Providence, R.I. where he graduated with a degree in Baking and Pastry. Chef Petersen then took a pastry chef position at the Relais & Châteaux Castle Hill Inn kitchen, working alongside Chef Casey Riley. Next, Chef Petersen relocated back to Philadelphia, where he took over the position of pastry chef at the distinguished Morimoto restaurant.
Chef Petersen's time under Masaharu Morimoto quickly led to a position at LaCroix, working with Philadelphia's "Godfather" of French cuisine, Jean-Marie LaCroix. It was there that Petersen not only learned to refine his style and technique, but was invited to stage at Daniel Boulud's restaurant in New York, Daniel. Chef Petersen soon went on to acquire the title of pastry chef at Boulud's midtown restaurant DB Bistro Moderne, which led to a position as executive pastry chef for CityZen and Sou'Wester at the Mandarin Oriental in Washington, D.C. Chef Petersen's extensive culinary knowledge brought him back up the Eastern Seaboard, where he took on the role of executive pastry chef for the highly esteemed Newport Restaurant Group before joining the Metro team.
Chef Petersen's love and appreciation for classic and experimental desserts translates seamlessly onto Metro's menu, where he aims to transform familiar favorites into desserts that guests have never seen before. Chef Petersen says, "My desserts are a reflection of me and where I've been - I show who I am on the plate."