The smell of fall brings — at least in part — the excitement of holiday shopping. It's been said that November is the new December, so mark your calendars, people! This year's Art Providence Show happens a month earlier than normal — November 8–10 at the Rhode Island Convention Center.
Now in its third iteration after replacing the long-running Rhode Island School of Design (RISD) Annual Holiday Sale and expanding its offerings to include artists from all backgrounds (including but not limited to RISD alumni), the show continues its trajectory of offering fresh, new work from 150 new-to-Providence artists, well-loved RISD alumni, and other talented local art, craft and design dynamos. The show is unique in its scope and quality of work, in large part due to being juried by leading experts in contemporary craft and fine art, and also due to its roots in the RISD tradition.
New at last year's show (and continuing this year) was the Early Stage Artist Program for emerging artists who are new to showing and selling their work in public spaces and events. It creates greater access to the world of professional shows due to shared "community booths" and minimal display structures that allow for more emphasis on the work itself. RISD's Continuing Education (CE) sponsors two to four CE graduates to give them a taste of selling their work at public events and has received very positive feedback.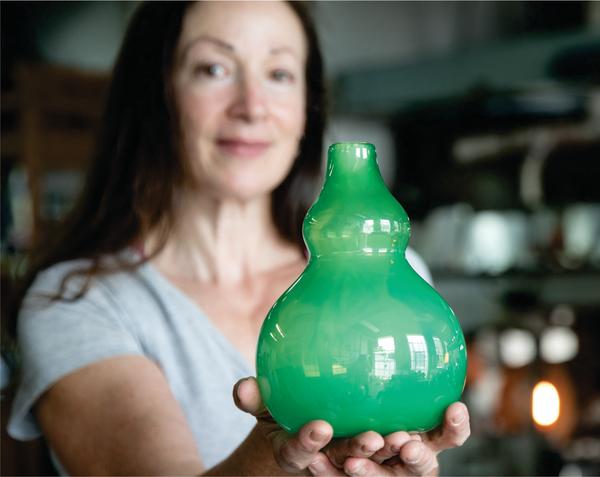 The show will be held at the RI Convention Center and tickets are $10 per day; RISD faculty with ID and kids 12 and under get in free. Live music and Local Food Favorites (an indoor area featuring executions of some of RI's favorite food trucks) are back again this year, giving you a variety of reasons to stay and shop a little longer. It's a kid-friendly show and brings back its popular print-making area staffed by professional artist Lisa Perez.
Show hours are:
Friday, Nov. 8, 5–8 p.m.
Saturday, Nov. 9, 10 a.m.–6 p.m.
Sunday, Nov. 10, 10 a.m.–4 p.m.
There's a special preview event with a happy hour on Friday evening, at which everyone who enters with a paid ticket between 5–6 p.m. gets a voucher for a free glass of wine or beer (must be 21+). There's nothing like a good old-fashioned sip-and-shop! There are a limited number of tickets for Friday's Preview Event, so get there early or buy tickets online.