Following a successful 2021 season, Federal Hill's "Al Fresco on the Hill" returns May 13 and will run through Oct. 1, 2022, with restaurant seating expanded onto the street on Fridays and Saturdays, from 5 p.m.–12 a.m. Brought to you by the Federal Hill Commerce Association, "Al Fresco on the Hill" features nearly 30 restaurants. 
Traffic will be open to vehicles from Bradford Street to Dean Street along Atwells Avenue, with participating restaurants in this area setting up parklet dining on the Avenue, right in front of their doors. Atwells Avenue, from Dean Street to Lily Street, will be closed from 3:30 p.m.– 2:30 a.m. 
"Al Fresco on the Hill" will not take place during Federal Hill's Annual Summer Festival, June 17–19.
Reservations are suggested for this popular dining experience. Take a look at the participants below and start making your plans.
Participating Restaurants: 
Angelo's Civita Farnese Restaurant
Bacco Vino & Contorni
Bonanno Vinicola
Cap't Loui Seafood
Cassarino's
Costantino's Venda Bar & Ristorante
Don Jose Tequilas Restaurant
Federal Taphouse & Kitchen
Harry's on the Hill
Mambo Sushi
Il Massimo
Nami
Napolitano's Brooklyn Pizza
Nara Lounge & Restaurant
Ours
Pane e Vino
PiANTA
Providence Oyster Bar
Pure Lounge
Ristorante Roma
Rock & Rye
Saje Kitchen
Scialo Brothers Bakery
South Beach Restaurant & Lounge
Tavolo Wine Bar & Tuscan Grille
Trattoria Zooma
Venda Bar
Federal Hill Gallery
click on the image for restaurant info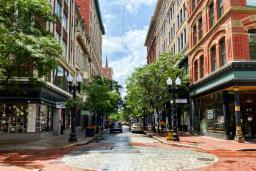 If you're looking for some Saturday fun (and want to skip the beach traffic), head to downtown Providence for Open Air Saturdays. Presented by InDowncity, the event series returns this year every first Saturday of the month beginning May 7 through Oct. 1. Several locations throughout downtown will Learn More ›