Steve Solomon took the mantra "Write what you know" to heart. Solomon left a career in education to write and star in "My Mother's Italian, My Father's Jewish and I'm in Therapy!" The show went on to play on Broadway for two years and has toured the world for nearly a decade, making it one of the longest-running one-man shows in history.
"It's been exciting," Solomon said in a recent phone interview. We asked what viewers can expect at the show, which pays an extended visit to Trinity Rep from April 23 to May 18.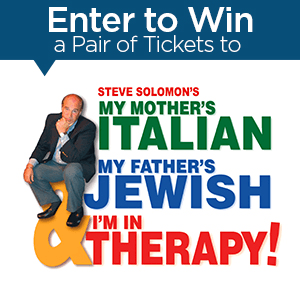 Brian Hodge: Tell us a little bit about the show.
Steve Solomon: It's the equivalent of going to dinner with your family and coming home with heartburn and a headache - and realizing why you left home in the first place. It's set up where Peter (the main character) goes to his therapist's office, and his therapist is very, very late. And he starts talking to the other people in the audience, the other people in the office, and telling his whole story. The characters come alive, and the interactions between the characters are really belly-laughs.
BH: And it's very much a personal story, right?
SS: My family took me to court to get my artistic license revoked.
BH: How do they feel when they see themselves being portrayed on stage?
SS: They love it. They love it because they know it's them. That's what makes it really funny. People see the silliness. My favorite line in the show happened with my dad about a month ago. He sent me a fax. The first fax he ever sent. He calls me up. "Son, did you get the fax?" "Yeah, Pop." "Alright. Send it back. It's the only copy I have."
You don't have to be Jewish or Italian to love the show. They walk out and say, "That was my uncle." "That was my friend." "That was the guy that stopped me at the airport." They identify with it and that's why I think it's so successful.
Thank you very much to Steve Solomon for the interview and the laughs.