Growing up, my Irish-Italian family celebrated St. Patrick's and St. Joseph's Days pretty equally. We wore green and ate corned beef and shamrock-shaped sugar cookies on March 17. Two days later, we donned our red sweaters and sat down to a dinner of homemade spaghetti and meatballs with zeppole for dessert. It was years before I learned that St. Joseph's Day is mainly a Rhode Island thing.
With Providence Pizza Week just around the corner, I thought it would be fun to celebrate both the Gaelic and the garlic sides of my heritage with some green pizzas. Whether it's a pesto base or fresh arugula topping, you'd be surprised at the variety of pizzas that are wearing the green. Here's a sampling of some local slices worth checking out.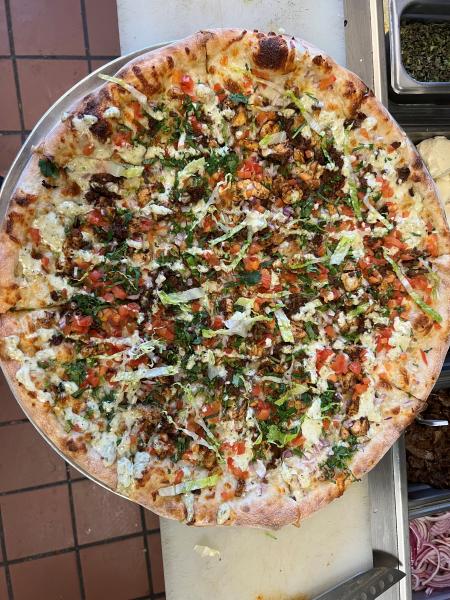 Pesto is the obvious choice when it comes to green pizza, and there are several tasty options. The District's Pesto, Fig & Prosciutto pizza also features arugula, mascarpone, feta and fresh mozzarella, all drizzled with a balsamic glaze. Or try the Pesto Chicken at Napolitano's Brooklyn Pizza. Who could resist its combo of grilled chicken, tomatoes, mozzarella and parmesan with a fresh homemade pesto? Trattoria Zooma even has a Vegan Asparagus & Cheese, with vegan mozzarella and a pesto base.
But no worries if you don't like pesto, Pizza Marvin's got green covered with their Salad Pizza. It's a salad. It's a pizza. It's a salad on a pizza. Think of it as salad with one giant crouton.
If you like these, you'll love Providence Pizza Week in April. Keep an eye out for more info on what your favorite pizza joints will be cooking up this year!
There are many Providence neighborhood restaurants participating in Providence Pizza Week.