The Providence Children's Museum (PCM) will reopen its doors to visitors on October 1, 2020. PCM closed on March 13, 2020 due to the COVID-19 outbreak and has been providing activities, resources, and videos online for children and their grownups for more than 6 months.
And now, the PCM staff could not be more thrilled to welcome back visitors.
"We are a group of people who love children, and are inspired by their learning, creativity and joy," says Executive Director Caroline Payson. "It's been a difficult few months and we're glad to have the ability to welcome back our visitors in a safe manner. We've missed them."
PCM will be open Thursdays through Sundays, with two 90-minute visitation times: 9:30–11 a.m. and 11:30 a.m.–1 p.m. PCM is likely to add additional hours during school vacations and government holidays.
To keep everyone safe, capacity will be limited, everyone over the age of 2 will be required to wear a mask, and no food or drink will be allowed on the premises. Every visitor will be required to reserve a ticket in advance by visiting providencechildrensmuseum.org. All entrants will have their temperature taken, complete a symptom checker, and sign a waiver before they are admitted.
Some loose parts within museum exhibits have been reduced or removed. Those that remain will be disinfected frequently by exhibit staff and swapped out for new sets of previously disinfected items between each visitor timeslot. Staff will be available on the floor to facilitate socially distanced play.
To limit the possible spread of the virus, PCM has added additional precautions to its already strenuous cleaning process. All museum frontline staff will be cleaning high-touch areas frequently throughout the day using CDC-recommended products. Between visitor time blocks, additional focus will be on whole-museum sanitizing.
"The museum may look a little different, but there will always be room for play," Payson added. "We can't wait to welcome everyone back."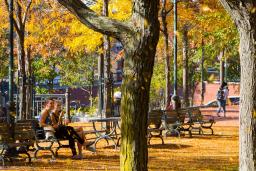 Providence, RI is a great place to visit in the fall, with beautiful foliage, first class... Learn More ›