Just in time for the beginning of summer, the Providence to Newport Ferry returns. Operated by Seastreak, the ferry runs through Columbus Day weekend. The beautiful one-hour ride takes passengers down the coast of Rhode Island, under the Newport Bridge and ends on America's Cup Avenue in Newport. Bristol stops and departures are again available on weekends. With indoor and outdoor seating, the ferry can hold up to 90 passengers. During inclement weather, when outdoor seating is not available, only 60 passengers will be allowed.
Proper safety measures will be taken, including sanitization during and between ferry runs, as well as at the end of each day. Face masks must be worn inside the lower deck and social distancing must be maintained throughout the vessel.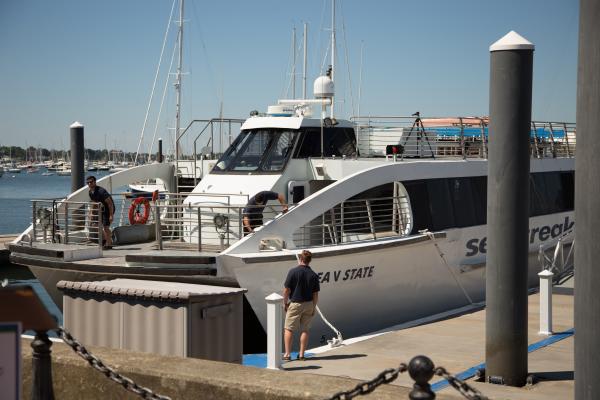 One-way ferry tickets are $11 for adults and $5.50 for children, seniors and those with disabilities. Round-trip tickets are $22 and $11, respectively. Bikes and pets are allowed on board with no additional charge. Parking is free at the ferry terminal at 25 India St. in Providence. In addition, there is free RIPTA shuttle service to and from various Providence locations. 
Tickets can be purchased online at RideTheBayRI.com, by calling 1-800-BOATRIDE, or on-site. 
And while you're here, be sure to check out Providence's great restaurants and enjoy the city's attractions, museums and more. 
Also Check Out ...

If you're looking for something fun to do on a Saturday (and want to skip the beach traffic), head continue reading ›