We are excited to bring Rhode Island's first plant-based festival, VegFest, to the WaterFire Arts Center on Sunday, Feb. 23!
Are you #PlantCurious? Do you want to know more about living a plant-based lifestyle? That's why we're here. RI VegFest was founded to help educate and promote a fun plant-based lifestyle here in Little Rhody. To help us on our mission, we've brought together some pillars of the North American plant-based community. Our presenting sponsors, Wildflour Vegan Bakery, Garden Grille and The Grange, come from right here in Rhode Island, and they are joined by other local supporting sponsors, including Narragansett Beer, Plant City and New Harvest Coffee Roasters.
In addition to other excellent vegan foods and baked goods from providers like Julian's, Like No Udder, Sprout and Lentil, and The Vegan Nest Cafe, which will be sharing some of their renowned vegan dishes, Narragansett Beer and New Harvest Coffee Roasters will be serving up vegan drinks at their beer and coffee bars.
Plant-based living doesn't stop at food and beverage. At our event, you can meet nonprofit organizations like Farm Fresh RI, which has been a long-time supporter of Rhode Island's local farmers, along with internationally known ocean conservation pioneers Sea Shepherd. Clothing brands like Wuxly and White Muck, vegan beauty and soap producers like Lumen Naturae and Black Orchid Skincare, home goods manufacturers like Vegan Potter, Soy Much Brighter Candle Co. and Sir Milky Quartz, and local artists who live plant-based lives such as Huetown and Daniel Kern will also be present.
Visitors to RI VegFest will also be able to tour the famous 98-square-foot REUSE! box truck tiny house owned by vegan documentarian and reuse activist Alex Eaves.
We love eating plants and we think everyone else will, too, if given the right opportunity. In our travels, we've attended veg fests all over the U.S. and we think Rhode Island deserves to join the fun.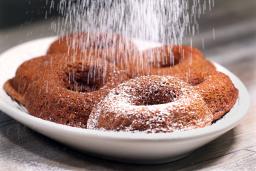 GoProvidence.com and the Providence Journal bring you Small Bites: Easy-to-Digest Recipes. Knead Learn More ›