AS220, the Rhode Island School of Design (RISD) and Shepard Fairey are celebrating 30 years of OBEY GIANT in the city where his first iconic sticker was slapped onto an unsuspecting public while he was a student at RISD's Providence campus.
In Conversation With Shepard Fairey: Three Decades of Dissent

Monday, Oct. 21, 7 p.m.
RISD Auditorium — 17 Canal Walk
There will be a 15-minute documentary screening about Fairey's last 30 years of work, followed by a conversation with RISD Senior Critic Tom Roberts. This event is free and open to the public. RSVP at risd.cc/obey. Public can also watch the live stream here.
Shepard Fairey: Facing the Giant

Friday, Oct. 25, 6–9 p.m.
233 Westminster St.
Facing the Giant, a survey of the last three decades of Fairey's work, is a selection of 30 artworks shown as 30-by-41-inch hand-painted multiples — prints on unique collaged backgrounds with additional stenciling and embellishments — selected "for their importance aesthetically and conceptually, and for addressing critical topics and themes frequently recurring throughout Fairey's career." With only three exhibits happening in the U.S. — the others being Brooklyn and Los Angeles — the Providence show is a rare opportunity to see this work in person. A portion of the sales of art will support AS220's All Access Campaign to renovate and improve the accessibility of our Empire Street complex.
Shepard Fairey's 100th Mural

Monday, Oct. 21–Friday, Oct. 25
91 Clemence St.
Shepard will be painting his landmark 100th large-scale mural on the Founder's League Building at 91 Clemence St. in downtown Providence, a site secured by AS220 Founder Umberto Crenca with much help and assistance from Cornish Associates. Inspired by AS220's championing of free expression, and the power of art to change lives, the mural features Anjel Newmann, an alum and director of AS220 Youth. Fairey will create a limited print of the mural, on sale for $50 in support of AS220's $5 million All Access Campaign. This limited edition print will be for sale at the above events, image to be revealed soon!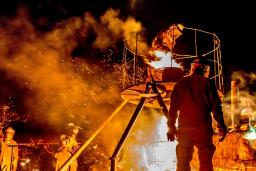 Stop by The Steel Yard on Saturday, Oct. 22, from 4–9 p.m., for Providence's hottest... Learn More ›