The Michael S. Van Leesten Memorial Bridge, also known as the Providence River Pedestrian Bridge, connects the city's Fox Point neighborhood on the East Side to the burgeoning Innovation & Design District. 
Opened in August 2019, this pedestrian bridge reuses the existing piers of the old I-195 highway bridge. Stretching 450 feet across the Providence River, the deck of the bridge is constructed from Brazilian Ipe wood and features matching wooden benches, built-in chess boards, and illuminated tables. At the end of each side of the bridge are sprawling urban parks often featuring pop-up vendors, entertainment and food trucks.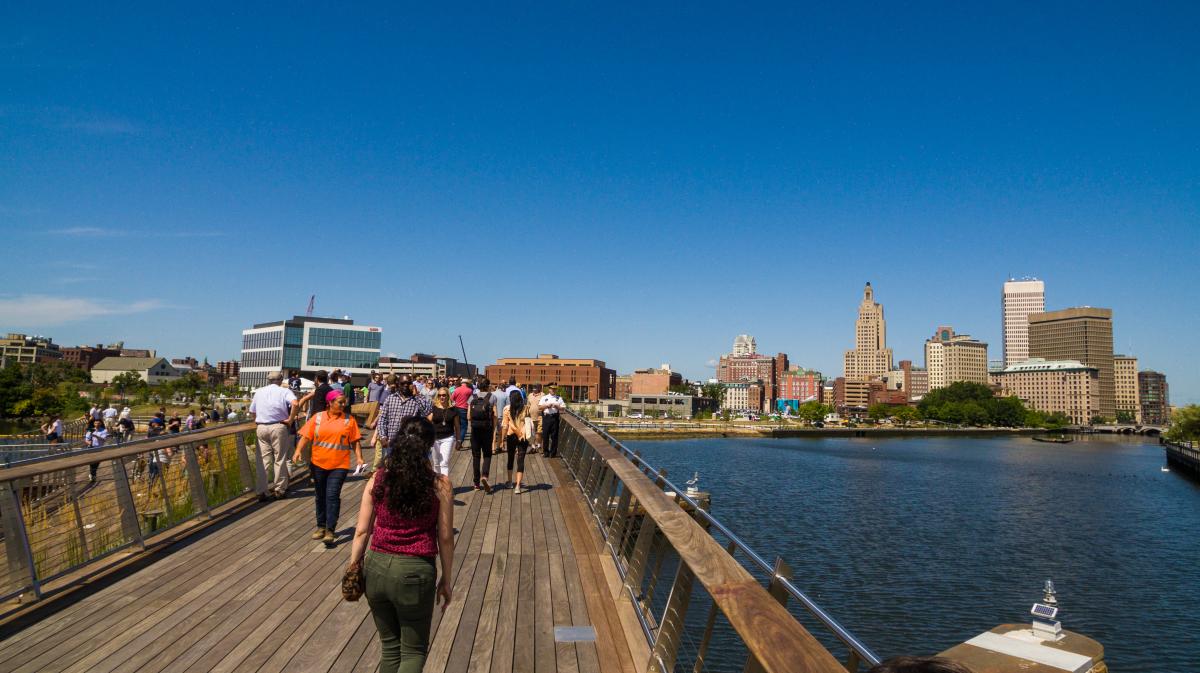 You'll find restaurants on the east side of the river, including Hemenway's, Dave's Coffee, Bacaro and Plant City, along with shops all along South Main Street. In the summer, be sure to stop by the Providence Flea most Sundays or just stroll the area at your own pace with our East Side Historic Walking Tour Map.
On the west side of the bridge is a larger park area with seasonal pop-up vendors and The Guild's PVD Beer Garden, in operation from late spring through early fall. Blu Violet, the rooftop bar atop the Aloft Providence Downtown, offers incredible views of the East Side and the waterfront while serving up small bites and masterfully crafted cocktails. There's also plenty of history to explore throughout the Jewelry District, much of which is covered in our Jewelry District Historic Walking Tour Map.
Bridge Location:
The west side of the bridge is accessible from Dyer St. near Ship St. The east side of the bridge is accessible from South Water St. near James St.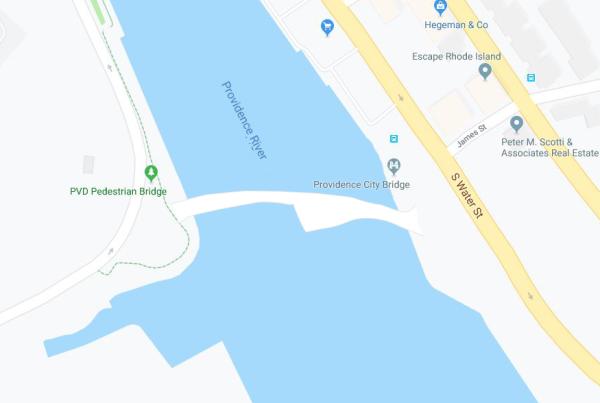 Pedestrian Bridge Events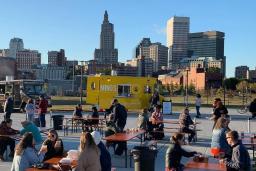 Join us just off the new pedestrian bridge in the PVD Innovation District Park along Dyer St. and...
Distance: 1.5 miles
Time: 2 hours or less
Parking: Meters on South Main Street...
Insta-Worthy
The bridge has quickly become one of the best spots in the city to take pictures. Check out these awesome photos from Instagram:
Also check out ...

How did Providence, Rhode Island become the "Jewelry Capital of the World"? The first steps by Nehemiah Dodge and Jabez Gorham in the late 18th century happened outside of the Jewelry... continue reading ›

Walk timeworn streets and chart the city's growth on foot with this historic walking tour. continue reading ›