The Urban Vintage Bazaar once again takes over the Arcade Providence on Sunday, Oct. 20 from 10 a.m.–5 p.m. Free and open to the public, this is the event vintage lovers never miss!
The event showcases more than 25 vintage vendors from around New England, selling men's and women's vintage clothing and accessories, jewelry, housewares, linens, kitschy collectibles, industrial items, ephemera, vintage cameras, bohemian items, mid-century finds, lighting, re-purposed items and much more. The event also includes a "Vinyl Lounge" — an entire room devoted to selling nothing but vinyl records and other music-related items.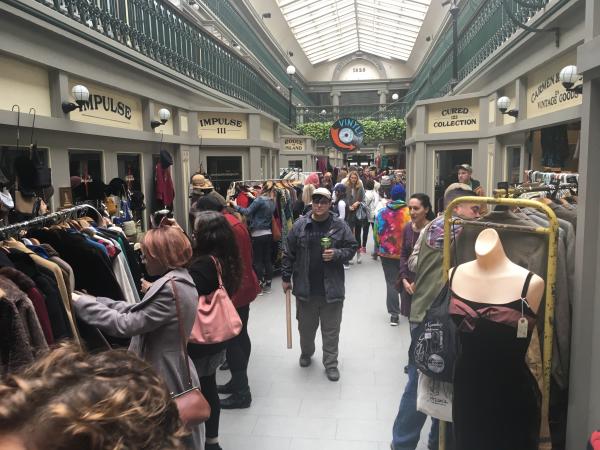 Confirmed vendors for the Urban Vintage Bazaar include:
Mirrorball Boutique
Archetype Vintage
Mim's
Pillbox Holiday Vintage
Colonel's Collectibles
White Buffalo
Junque Shop
My Pink Planet
Demetra Vintage
Big Wheel Vintage
Gallery II Vintage & Antiques
Candy's Curiosities
Guess What I Have?
Mayflower Vintage
The Bird's Nest
Americana Darlings
Gina's Creations and Vintage
House of Philippa
Josh Gravel Vinyl
Nick Gardner Vinyl
Bad Taste
Split Apart Secondhand
Cured Collection
Lovecraft Arts & Sciences
And, of course, Carmen & Ginger
In addition to the vintage vendors, The Forgotten Cat will again be on-site, with a portion of each vendor's fee devoted to supporting their efforts. The Forgotten Cat is a nonprofit organization from Massachusetts that is dedicated to educating the public on how to care for and stop the growth of "feral" cats and colonies.
 
To keep up with everything happening at the next Urban Vintage Bazaar, please visit and follow them on Facebook at Urban Vintage Bazaar!
Also Check Out ...

Fall and the Halloween season are upon us, and Providence, RI is brimming with ways to celebrate this most wicked time of year. Stroll along the illuminated winding paths at... continue reading ›