Say goodbye to April showers and take some time to smell those May flowers! There's lots of activity throughout the city these days as we gear up for the summer season.
While we expect an uptick in leisure travel over the next few months, the PWCVB is working closely with the Rhode Island Convention Center Authority and RICC staff to get the building open in early August and begin welcoming meetings and events in a safe manner. As we work toward a return of business travel, we've added a new section to this blog to provide updates to our hoteliers, venue operators and our entire partner community about what's going on with our Sales and Convention Services teams.
Now, let's take a look at what's happening at the PWCVB and with you, our partners.
PWCVB UPDATES

After more than a year since in-person meetings and events were abruptly suspended, the PWCVB recently launched Meet in RI, a campaign that asks local companies to commit to hosting a future meeting, event or convention in Rhode Island. The campaign launched with support from community partners Johnson & Wales University and Partnership for Rhode Island. For more information about Meet in RI or to pledge to hold your own meeting in Rhode Island, please visit MeetinRI.com.
Did you know all PWCVB restaurant partners are eligible to appear on the Monday morning cooking segment on "The Rhode Show"? There's no cost and it's great exposure for your restaurant since the segment airs live and is also shared online. If you're interested in learning more about "The Rhode Show" appearances, email Marketing & Communications Manager Greg Desrosiers. You can also reserve your timeslot here.
As we head into the summer season, please make sure to add any events or promotions to our online calendar. If you have any questions or difficulties please reach out to Digital Media Manager Nick Millard.
Start planning those menu specials for summer Providence Restaurant Weeks, coming up quickly July 11–24. This summer's campaign returns to running just the two weeks, but the choose-your-own specials format will continue. Be on the lookout for an email with more info and registration details.
PARTNER NEWS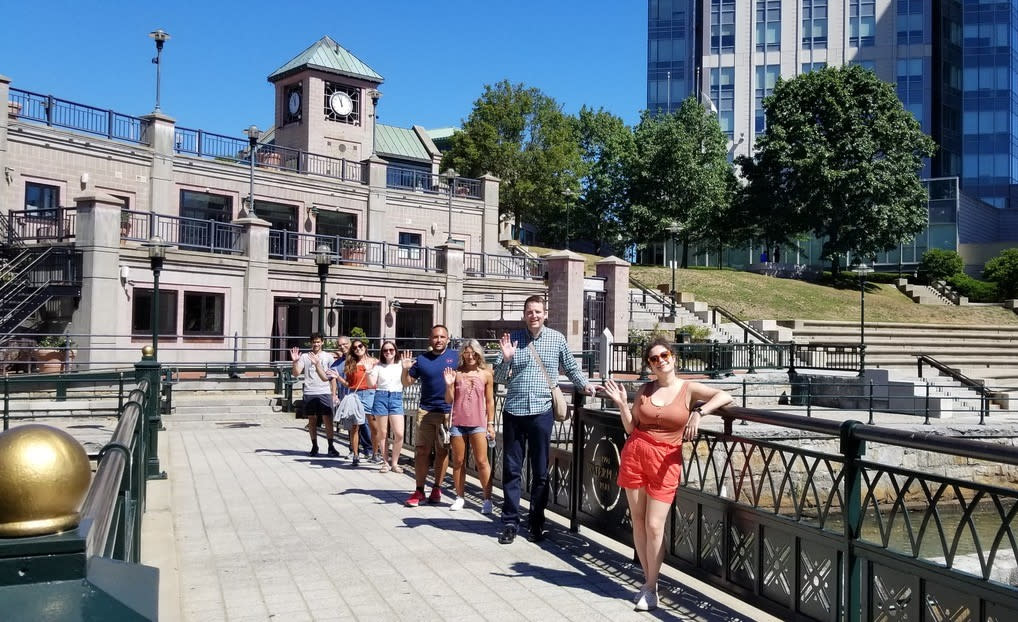 The 2021 tour season is ramping up and offers a great way for visitors and locals alike to experience the rich depth of history, culture and more that Providence has to offer. There are plenty of different types of tours to choose from so take a look and consider being a visitor in your own city for a day!
Frog & Toad continues to sell limited edition Buy Local RI T-shirts featuring the classic rooster design and two new interpretations created by local artists. A portion of the proceeds of all the shirts is being donated to the Rhode Island Hospitality Association's Rhode Island Hospitality Employee Relief Fund. Thank you to Rhode Island Monthly for their advertising support of the promotion. All three shirt designs are now available, so be sure to order yours today because once they're gone, they're gone for good!
The Providence Performing Arts Center and The VETS announced that they've achieved Global Biorisk Advisory Council® (GBAC) STAR™ accreditation, the gold standard for facilities. They are the first performing arts theaters in New England to achieve this accreditation, which verifies that PPAC and The VETS have implemented the most stringent protocols for cleaning, disinfection and infectious disease prevention. Read more.
Our friends at Accessible Rhode Island are in the process of updating their website. Accessible Rhode Island surveys and recognizes local businesses that are accessible to persons with disabilities according to the guidelines of the Americans with Disabilities Act of 1990 and the 2010 ADA Standards for Accessible Design. Their website is a valuable resource guide featuring accessibility info for restaurants, museums, cinemas, cultural sites and more. If you are interested in registering your business on the site or need to update your current business information, please go to access-ri.org and complete the form on the home page.
Providence has a great showing in this year's Condé Nast Traveler Readers' Choice Awards and voting is open now through May 31. There are lots of PWCVB partners listed in the hotels and restaurants categories, while Providence is a nominee among cities and T.F. Green Airport is once again a contender for top airport recognition. Voting takes just five minutes and can be done here.
SALES & SERVICES SPOTLIGHT
On April 7, the PWCVB sales team rolled out FuturePace (FP) to the hotel sales community at our quarterly sales leadership meeting. FuturePace replaces the TAP report and FP reporting is posted to our member portal during the first week of each month. For a tutorial on how to use FP reporting, please contact VP of Sales and Service Tom Riel.
In March, new business opportunities came in at 50% of our normal market pace, up from 5% during the peak of the pandemic. Meanwhile, the sports market is the first to return to normal levels with 14 events scheduled to arrive in market between April and August. These events will bring approximately 17,000 room nights and $9.7 million in direct spend to Rhode Island. Thanks, RI Sports Commission!
Site visits will resume in late May for both prospective and definite clients. Please reach out to Senior Director of Convention & Visitor Services Erin Degulis with any special rules your organizations may have in place to keep us all safe. The services team is available to conduct their own site visits to your hotel, venue or attraction in order to better recommend your business to clients.
Listen up, hoteliers! The services team is also happy to pay a visit and chat with sales and event management/services about the team's available complimentary services and how they can assist you and your clients.
Finally, while the PWCVB Visitors Center remains closed we're still here to assist clients virtually. Stay tuned for some exciting new changes!
IN THE NEWS

There's a lot of great news in the press about Providence and our destination in general. Check out some recent headlines below:  
"Socially-Distanced Joyrides Offer A Safer Way To Explore Rhode Island" — Forbes
"Deals Designed To Lure Travelers Off Their Couches" — The New York Times
"The 50 Best Libraries in the United States" — Town & Country
"Local Artists Partner With Popular Gift Shop To Help Struggling Restaurant Workers in R.I." — The Boston Globe
"Celebrate Rhode Island Hotel Week, With Deals From $100 A Night" — Forbes
"A Tiny Tour of Rhode Island: 12 Perfect Hours in the Nation's Smallest State" — Matador Network