People are hitting the streets for Pokémon GO. GoProvidence has joined in on the hunt by launching a blog series to help Pokémon GO gamers navigate Providence. Keep reading for more info ...
If you're looking for Pokémon in the city, Downtown Providence is a hot spot. This densely packed area has nearly 50 PokéStops. With that many stops, you won't run out of gear and can stock up on your items. In fact, you might even have to upgrade your backpack. 
We spotted a ton of Pokémon while walking around the city. We caught a Dratini at Burnside Park right next to the Bajnotti Fountain, and a Pidgeotto right in Kennedy Plaza. And check out that Zubat in front of the Lovecraft sign!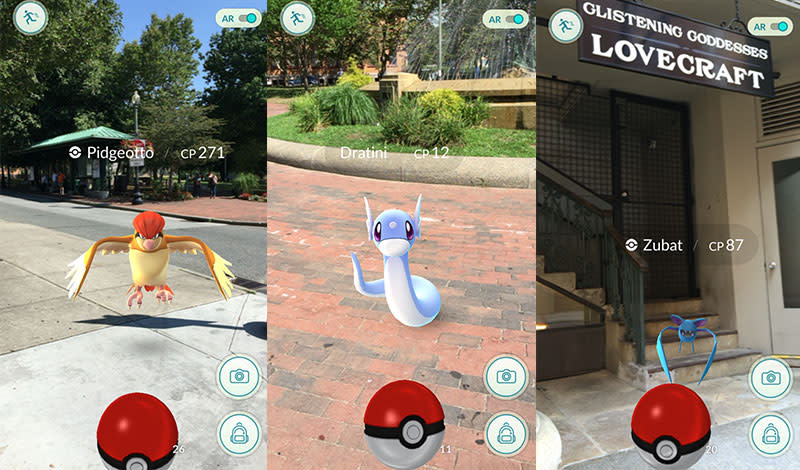 While you're walking around catching 'em all, you'll have plenty of restaurants and cafes to stop in to fill up on food and drink. Some of them are even PokéStops so you can throw down a lure and continue your hunt while grabbing a bite to eat. Click here for a full list of restaurants.
There are three Gyms in the downtown area: Turk's Head Building, Masonic Temple, and Loew's Theater which is now the Providence Performing Arts Center. 
Below is a map of the area including the locations of the Gyms. Happy hunting! Use #PokeGoProv to share some of your rare catches around Providence.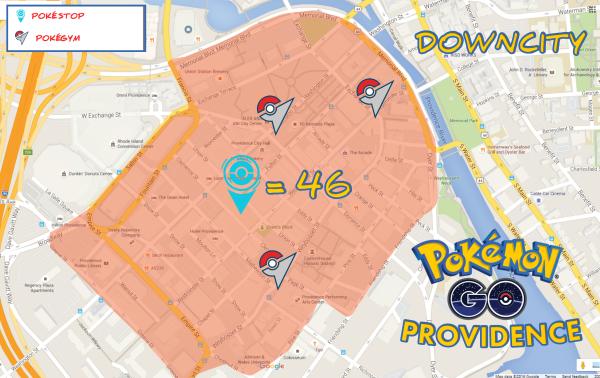 PokéStops
Union Station Passage Seal
RI Medical Society
Reflective Installation
Sculpture at RI Convention Center
WWI and WWII Providence Journal Honor Rolls
Wall of Hope
Rod Explosion
Lillian Feinstein Memorial
Old Union Station
Slade Building Corner Features
Clock Sculpture
Fountain Street
Mask Sculptures
POW * MIA
Trinity Rep Art Memorial
George M. Cohan Park
Providence Industrial Mural
Three Waves for Coastway
Mercantile Block Mural
Mathewson Street United Methodist Church
Providence Street Mural
Shepard Company Building
PPAC Square
Johnson & Wales Clock Tower
Alice Building
Edward Triangolo Statue
McNulty Hall
Big Nazo Lab
Seal of Providence
The Hannah at Burnside Park
General Ambrose Burnside Statue
The Dunk Structure
Broken Pillar
Spanish-American War Memorial at Kennedy Plaza
The Superman Building
Rhode Island Soldiers and Sailors Memorial
Leaded Glass Rondouelettes
Summerfield Building
Thomas A. Doyle Statue
Waite-Thresher Company Building
The Providence Eagle
Gyms
Turk's Head Building 
Masonic Temple
Loews Theatre (PPAC)
Check back on Monday for our tour of Benefit Street!